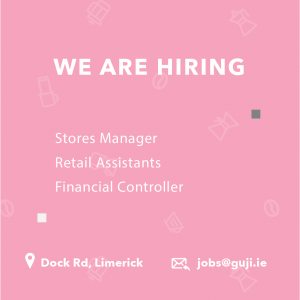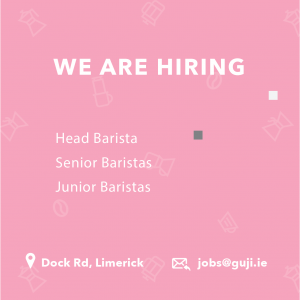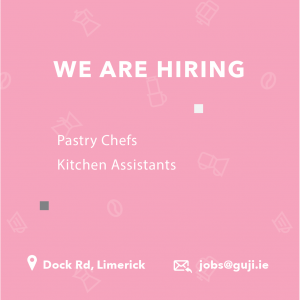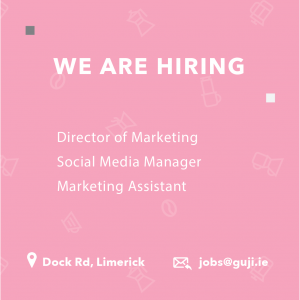 This is your opportunity to be part of one of the most exciting coffee projects in Ireland. Opening Mid Summer in LIMERICK CITY, the team who created The Old Barracks Coffee Roasters will open a state of the art open source coffee education centre, spanning 9000 square foot, including a coffee roastery, coffee bar, training rooms, sensory rooms and interactive retail space.
APPLY NOW FOR ANY OF THE FOLLOWING ROLES – send a CV with cover note to jobs [at] guji.ie
All roles are daytime. We operate a 7 day retail business.
Financial Controller – To date we have outsourced the bulk of our financial administration tasks. With a team of 30 staff and growing, and operating 4 sites and growing turnover, we now have a need to bring all Financial Control tasks in house. This is a full time role, where you will manage a small team of up to 4 staff,  managing typical daily tasks such as, bank reconciliations, invoicing, payroll, vat returns, bank and purchase reconciliation and preparation of  financial plans, funding requests, procurement efficiency, credit control, management accounts, budgets, cashflow statements and general financial planning for the business. Experience in a similar role essential. Minimum 4 years experience at similar or senior level. Must be fully qualified. Salary Range 35K-50K PA + benefits (Life Assurance+Pension). Salary subject to experience. Apply to jobs [at] guji.ie
Director of Marketing – Full time in house role – responsibility to drive strategic marketing for the parent company and its subsidiaries; The Old Barracks Coffee Roasters, GUJI Coffee Bars and GUJI Coffee Roastery. Based on the Dock Road in Limerick, the successful candidate will have a proven track record in marketing.  You will have a strong understanding of consumer behaviour and branding. Minimum 4 years experience at a similar or senior level. Degree in Marketing preferred but not essential. Salary Range 35K-50K PA + Benefits (Life Assurance + Pension) subject to experience. Apply to jobs [at] guji.ie
Social Media Manager – You will design and manage the social media strategy, create content and manage advertising and promotion campaigns across all social media and PR channels. Minimum 2 years experience in a similar role. Full time role. Salary Range 25K-35K PA Subject to experience. Apply to jobs [at] guji.ie
Marketing Assistant – To support the marketing  department in creating content, activating campaigns and contributing to the marketing needs as required. Would suit a marketing graduate or 3rd year marketing student. Full and part time roles available. Salary Range 22K-26K PA Subject to experience. Apply to jobs [at] guji.ie
Pastry Chefs/Commis Chefs/Kitchen assistants – Join our bakery team where we create delicious gluten free treats and cakes for resale in our coffee bars. Full and part time roles available. Full time and part time roles available. Salary Range 22K-30K PA Subject to experience. Apply to jobs [at] guji.ie
Head Barista – We are looking for knowledgeable and passionate coffee professionals who will challenge coffee norms and drive the team to deliver amazing coffee experiences to customers.  We will create an open source coffee education centre, with coffee labs, tasting rooms and collaborative coffee experiences for customers. To apply for the head barista role, you must have 3 years coffee making experience with one year at senior barista level. Full time role. Salary Range 28K-35K PA + benefits (Life Assurance + Pension) Salary Subject to experience. Apply to jobs [at] guji.ie
Senior and Junior Baristas – Minimum one years experience as a barista required for senior roles, and no experience necessary for junior roles.  We will provide full training to develop beginner baristas. Full time and part time roles available. Salary Range 21K-28K Subject to experience. Apply to jobs [at] guji.ie
Retail Assistants – Minimum 1 years experience, preferably in coffee but not essential. 21K-28K Subject to experience. Apply to jobs [at] guji.ie
Stores Manager – Day to day management of deliveries, inventory, the general warehouse, and all inbound and outbound orders. Minimum 2 years experience in a similar warehouse role. Salary Range 26K-35K PA Subject to experience. Apply to jobs [at] guji.ie
TO APPLY NOW FOR ANY OF THE FOLLOWING ROLES – send a CV with cover note (!) to jobs [at] guji.ie